Other Awards
Back
Cutlery Cup
Jude Blamire
Birmingham Universities Scouts And Guides
Awarded Saturday 30th of April 2022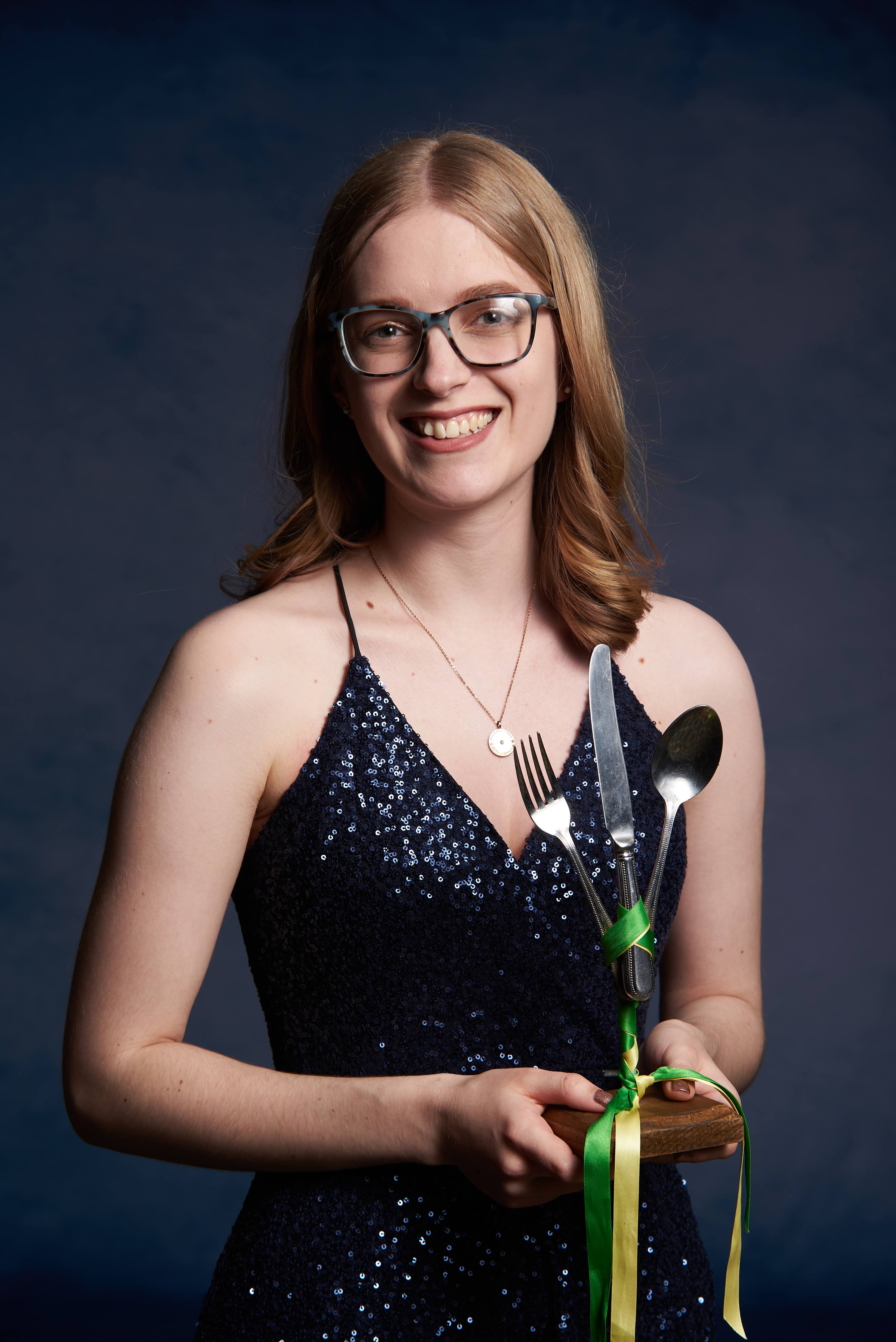 Jude Blamire, from Birmingham Universities Scouts and Guides (BUSAG), received the Cutlery Cup in 2022, for her dedication to SSAGO as Chair of BUSAG, Chair of WomBall 2021 and as a volunteer with Rainbows/Brownies.
Jude served on the committee for BUSAG since 2019 before receiving the Cutlery Cup, and served as Chair for the year prior to Once Upon A Ball.
Amy Knight and Anna Matthews, both also from BUSAG, spoke very highly about Jude, both through their nominations and on the stage at the awards ceremony of Once Upon A Ball, stating that she has "consistently gone above and beyond to make sure that each member of BUSAG is able to come and enjoy the meetings and events we organise". Anna stated that "I nominated Jude because I couldn't think of anyone more dedicated to SSAGO. She worked so incredibly hard on Womball and pulled off an amazing event despite all the uncertainty over covid and armed police and a peregrine falcon arriving at the campsite during set up. She also is an amazing chair for BUSAG. We've had an amazing programme this year and have maintained new members. This has been because of Jude's meticulous planning and (at times scary) organisational skills. She has worked hard this year to make BUSAG accessible and fun for everyone and it's clear that has really paid off".
Outside of SSAGO, Jude volunteered at a Brownie group throughout the pandemic and kept her home unit alive via Zoom, when they didn't have a permanent leader, and she also helps out with a Rainbow group in Birmingham.
Jude was the Chair of WomBall 2021, the first major in-person National SSAGO event since the Covid-19 Pandemic began, where she jumped though all the COVID-19 related hoops and obstacles that the pandemic brung. Despite this, and under her direction and dedication, WomBall was an immense success and helped shape the way for SSAGO leaving pandemic times and returning to "normality", for a given value of normal - we are SSAGO after all!